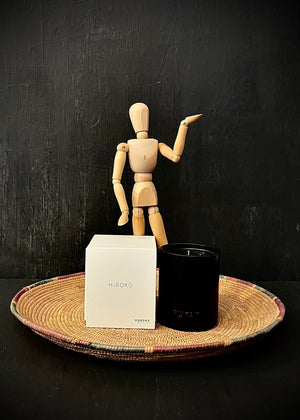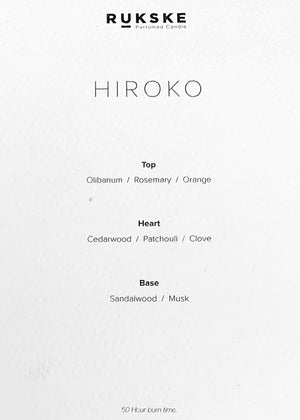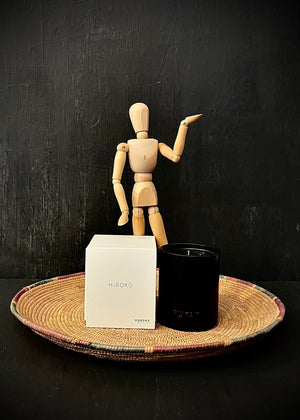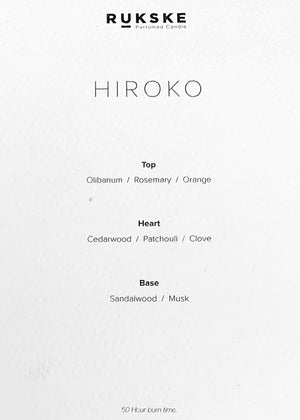 On Sale
RUKSKE CANDLE - HIROKO
RUKSKE our favorite new candles especially as we spend more time at home. the scent blends are super special enhancing the mood in any room.
HIROKO: this beautiful incense inspired fragrance opens with herb, citrus and woody notes that lead in to a moving Patchouli, Amber and Musk base. Notes of Fresh Orange whisper quietly throughout, creating a mood of tranquility and peace by the way of fragrance. Capturing the essence of Japanese Cedar wood, this makes for a burning experience like no other.  Hiroko is a mysterious, sublime and highly desired candle. 

Top:  Olibanum, Rosemary, Orange
Middle:  Cedarwood, Patchouli, Clove
Base:  Sandalwood, Musk
Hand poured, rich, ebony wax, curated fragrance, in one jet black, lustrous glass vessel.
Soy Coconut Paraffin Wax Blend
50 hours to burn
Burn Responsibility
- Trim your wick to 0.5cm before each use.
- We know the fragrances are irresistible but only burn for 3 hours at a time
- Balance is everything. Keep your wick centered.
Simply follow these tips for a clean burn and your dark and delightful vessel should stay perfectly intact.