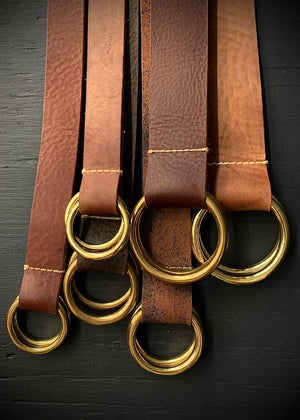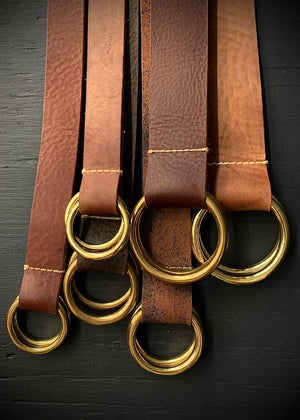 On Sale
RTH O-RING BELT - LATIGO BROWNS
A global classic, this belt is timeless and timely. Looks great with jeans, trousers or even over a coat. Available in three widths and two sizes. It can be worn on the waist, hips or anywhere in between.  Latigo (saddle straps) cowhide in shades of brown with solid brass rings.
We embrace natural scars, blemishes and character in our leathers. Leather is a natural material that will get better with age.  Limited returns (see fyi).  Made in the USA. 

** you'll receive a belt in one of the shades of brown pictured **
(all end to end measurements are approximate)
      strap width/ring size: 
narrow 1"/ 1.5"
regular 1.25"/ 2.0"
wide  1.5"/ 2.5"
       SIZE 1
narrow strap length 42" / end to end 43"
regular strap 42"/ end to end 43.5"
wide strap 42"/ end to end 44"
      SIZE 2
narrow strap  48.5"/ end to end 49.5"
regular strap 48.5"/ end to end 50"
wide strap 48.5"/ end to end 50.5"