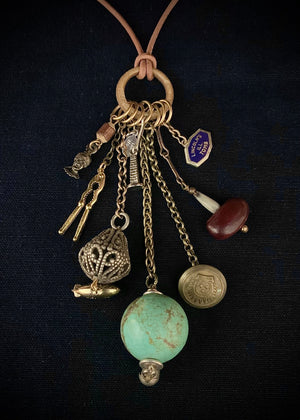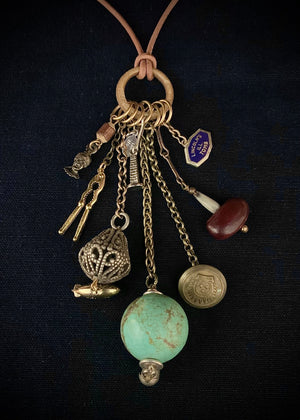 On Sale
"CHARM STORY" by Lisa Wood -Lincoln's Tomb , ILL
Lisa Wood has been a friend and inspiration for several decades. Lisa's work is highly creative, captivating, cooky, charming and beautiful just like her.
We are happy to feature these "Charmed Stories" necklaces. This is an edition of 12 pieces. Each one is unique.

Made of found vintage charms and jewelry that Lisa disassembles to then create new charms to complete the story of each piece. Every piece has a seed or pod charm representing growth.
The charms are a variety of materials all hanging from brass chain and jump rings attached onto an ox bone ring and leather cording. 

charms and ring approx 5"
leather cord approx 14" 
knot to preferred length
leather pouch w/ vintage indigo ribbon
made in USA
Final Sale